This summer's trend for shoes is probably the "flatform" which is wedge but with a flat footbed. There are some bloggers who don't dig this style because it looks uncomfortable.
Well, when I saw this in Dorothy Perkins, I really wanted to buy it but it's quite expensive at PHP2,500-ish. But when I went back and saw that it's the last piece and my size, I know, it's meant to be. There's also one in blue but they didn't have my size so I bought this, which I also like.
It's the closest I have to a flatform though the footbed isn't really flat. It has a bit of an arch but not too much. As for the comfort, I was able to walk on it from 4:30 in the afternoon until 7:30 at night without any major discomfort and I'd definitely wear this out again, no doubt. So yes, these are comfy and if I had the money to buy it in other colors, I would, definitely!
This actually looks like Juicy Couture's Dominica Wedge Sandals which Anna Kendrick was wearing. Cool, huh?
Image from http://mamasarollingstone.com
Here are some of the popular flatforms:
From Derek Lam: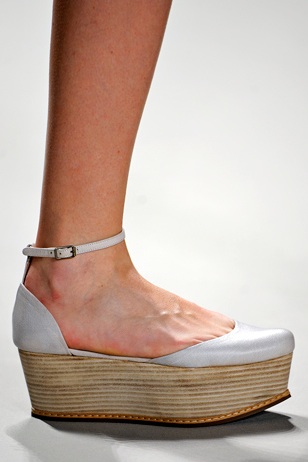 fabsugar.com
http://www.styleretail.com
From Prada:
From Fendi: (I love thiiis!)
http://champagneandstilettos.com
From Marc Jacobs:
From Michael Kors:
Would you try this style?